What is Honda LaneWatch?
Published: 05-19-2023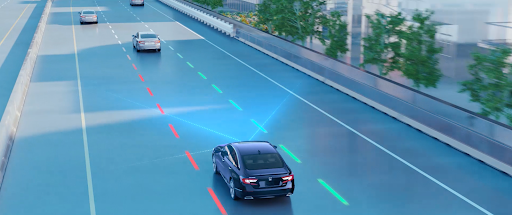 Honda vehicles are equipped with advanced safety features to provide drivers and passengers with peace of mind on the road. Honda Lane Watch is a safety feature available on select Honda models, including the 2023 Civic, Accord, and CR-V models.
The LaneWatch system uses a camera mounted on the passenger side mirror to provide the driver with a view of the vehicle's blind spot. When activated, the Lane Watch system shows a live video feed of the vehicle's blind spot on the center display screen, allowing the driver to see any vehicles or obstacles that may be in their blind spot.
Lane Watch was designed to be useful when changing lanes or merging onto the highway, as it helps drivers to stay aware of their surroundings and avoid potential accidents.
In addition to a live video feed, the LaneWatch system also provides both video and audio alerts when a vehicle is detected in the blind spot, helping drivers to stay focused on the road ahead and avoid potential hazards.
Honda LaneWatch is a simple, yet effective safety feature that helps drivers stay aware of their surroundings and avoid potential accidents. When combined with other advanced safety features, such as Honda Sensing, the Lane Watch system helps make Honda models some of the safest and most secure on the road today.
Honda Sensing System
LaneWatch is part of a larger safety feature called Honda Sensing -- a suite of advanced safety and driver-assistive technologies that is available on many new Honda models. The technology is designed to help drivers avoid or mitigate collisions and includes a variety of features that use sensors and cameras to monitor the vehicle's surroundings and the driver's actions.
Visit Our West Michigan Honda Dealers Today
Honda has been a leader in automotive safety for many years, and LaneWatch is just one of many advanced safety features the manufacturer includes in new models.
Visit your nearest West Michigan Honda Dealers today to see how LaneWatch works in person, and let our team members answer any questions you may have.